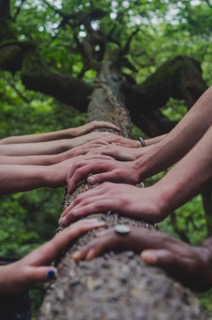 Settling into the work: Examining whiteness from an embodied place
with K. T. Tierney
In this afternoon session we will begin to settle into what it means to do racial justice work as white people and meditators. We will describe and explore some key concepts, have time for stillness, do contemplative practice, and have discussion. As we see on the streets and in the media, a time of racial reckoning is here and something is being demanded of us as white people. How do we want to show up? What can we do? What is the personal work? What does racial justice have to do with contemplative and meditation traditions? This session will be held in a container of loving kindness and gentleness for ourselves and others.
About the facilitator:
K.T. Tierney is a critical phenomenologist, queer philosopher, and spiritual warrior. They have been leading social justice workshops for a decade. K.T. has studied meditation and buddhism in the shambhala tradition and they currently serve on the Interim Practice and Education Team at the Pittsburgh Center. As a mindfulness educator they are constantly looking for ways to connect deep meditative wisdom traditions, the earth, and the elements with movements for social and ecological justice.
Proceeds will be donated to a local organization supporting social justice.
Zoom link will be sent to participants who are registered. If questions, please contact Linda Wolf: [email protected]